Sabyasachi Mukherjee and his affinity of seeing Indian women in exotic collections of his saree are immeasurable.
Even at a recent conference in Harvard, he used misogynistic comment stating "it's a shame that we as women still treating this 9 yard piece of garment in disdain considering that draping it makes them look older".
But legendary actress like Rekha, Vidya Balan who has been constant victim of body shaming and now the 'padmavati' queen who's acing the saree avatar in a flattering way.
The leggy lass is now rarely seen in short and skimpy outfits. Be it at Jio awards, HT awards or any Public event – She has started donning sarees and keeping up the heritage of saree fashion.
Let's look at Deepikas oh-so-wow saree moments which made us look at her with 'awe',
Deepika's recent quirky saree with metallic cuffs accompanied by a neat hairdo and bold red lipstick failed to charm us this time.
Though the candy striped georgette saree and the blouse looks interesting but when put together, it doesn't look good.
This ensemble seems to be just a sneak peak from Sabyasachi's spring and summer 2018 ensemble.
Peach Benarasi Border Saree
Dewy makeup, that coy look of hers in a Sabyasachi banarasi ensemble defines her as an epitome of grace and charm.
With less of accessories, she charms us with side-parted bun and dazzling earrings.
With an infectious smile – she doesn't fail to charm us.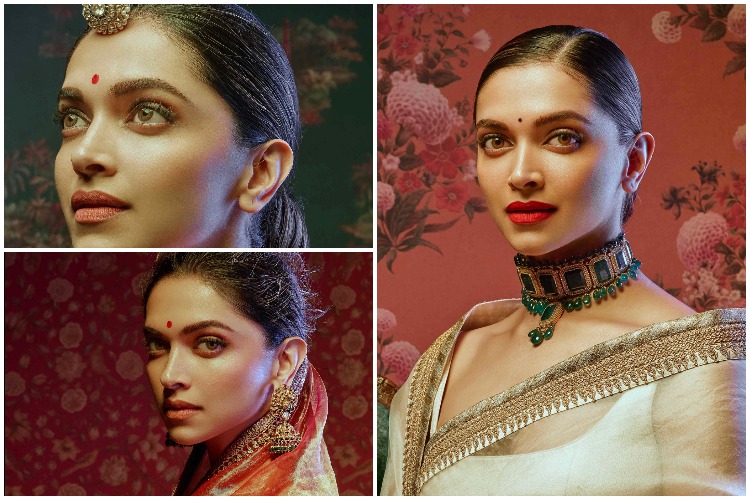 Seems like deepika has been chosen as the perfect muse for Sabyasachi's designer collection called 'Nilaya' in association with Asian Paints and the collection pays homage to the 60's and 70's fashion of the times.
Moreover, she exudes royalty in every royal benarasi saree she dons.
Deepika completely owns the saree look in her signature style. Each of her saree look is rounded off with side parted bun, red lipstick, dewy makeup and dazzling earrings.
At this year Mumbai Police awards 2018, she looked breathtakingly beautiful in a sabyasachi collection black saree.
Red Saree at HT awards 2018
At HT stylish awards 2018, Deepika showed up in a flattering red saree gifted to her by a legendary actress who like her has strong affinity for sarees.
Did you guess who is she?
She is none other than the diva and legendary actress Rekha, who is known for her envious collection of Kanchipuram sarees.
She just slays the look with ease.
Any Indian bride would want to turn as a muse for Sabyas collection. In-fact who doesn't want to be one?
If you are someone for whom buying sarees via online shopping matters the most – then you can shop these sarees online or take cue of these designs and DIY your own signature style.