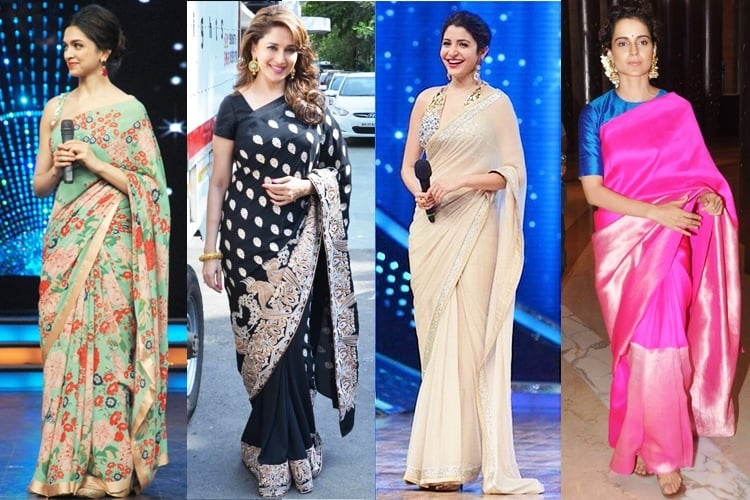 Making your saree-look 'peppy' 'sober' or 'bland' lies in the saree patterns you choose. A pattern doesn't confine only to the kind of textures embossed in a saree but also refers to the fabric on which it's printed on.
We've picked up 5 peppy patterns often worn by celebrities and can make a way to your couture too!
From bollywood designer party wear sarees to latest south Indian silk sarees – it's time to set on a visual stroll.
Here you go,
It's been a year when neons in green and pink have been dominating the fashion zone. Now, it has creeped into the 'ethnic' zone too.
Especially in chiffon and in latest south Indian sarees exclusively neons are variably seen with different types of prints or embroidery work embossed on it.
Black as a base colour of the saree with neons look great on a petite frame.
Do not overdo your make-up, as a dab of mascara and kohl would enhance the look, especially if you're someone head over heels in love with neons.
If neon's are not your taste, you could also opt for a single coloured fabric with a contrasting undertone of the base colour of your saree.
Single coloured saree would look great on anyone. But ideally such sarees would suit women who are bit on the heavier side.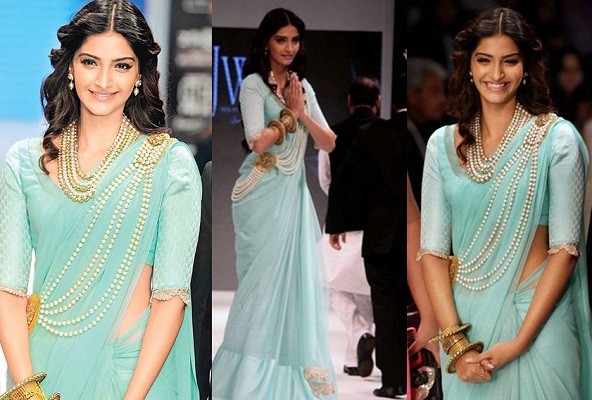 Make sure you wear a different fabric to stand out in your single-coloured saree. Either a Kutch fabric blouse or Aari work blouse would look great on a this saree.
Today designer blouse pieces are available along with the latest south Indian saree collection online. And it's indeed easy,as you need not hop from one store to other with your saree, for getting one designer blouse.
From the bollywood fraternity, it's only one 'diva' we remember till today ,who shows up in saree avatar. To top it, her sarees are mostly Kanjaviram..
Guess, who is she? Yes, it's none other than the legendary actress Rekha.
Her grace and elegance in golden kanjeevaram saree in vibrant patterns are never to be forgotten but to be treasured.
Patterns bring out such vibrancy, making you look balanced, even if your physique is disproportionate. There is a saying 'When in doubt wear black….'.
Ideally, patterns either striped or zig-zag or zebra patterns look best on grayscale mode sarees.
Either you can have full body of the saree embellished with such patterns or you can have only the pallu portion with such embellishment.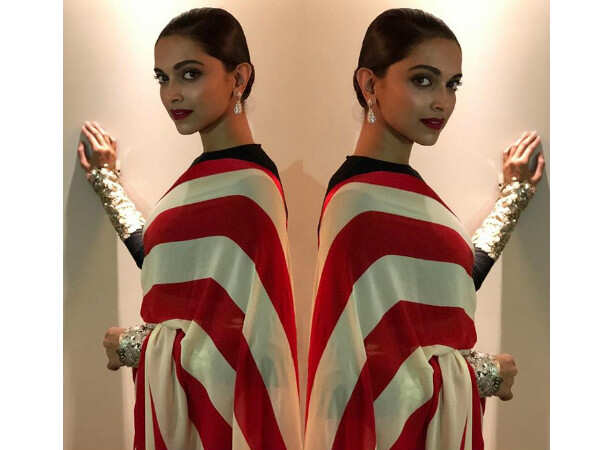 Try this kind of look which can make you look tall and slim.
Ikkat Blouse Pattern Over Red Designer Saree
'Ikkat' pattern is trending today. Such patterns are confined to sarees but now these are making its way for bollywood designer party wear saree blouses.
Add a bit of quirk to your overall look with 'ikkat' blouse.
As you've now got an idea that confining to one saree look is mundane. Break the clutter and stand out from the crowd with such styles!