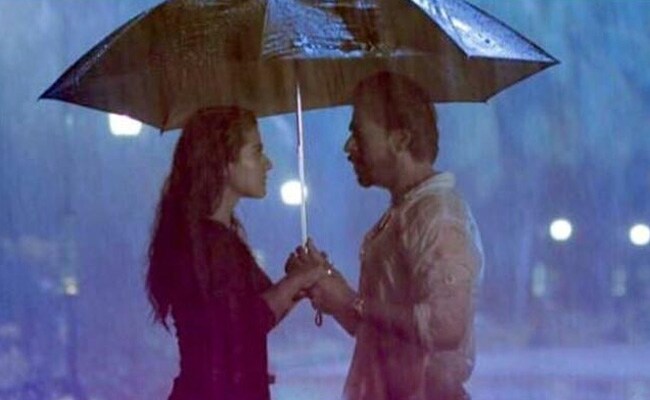 Breezy monsoons have just started and we need to deal with this affair for another two months, till the mid-of-August.
Surprising outburst of rain…especially on-your-way to office and that too on a day when you're looking your best in your glam-saree-avatar is something awry!
Thus the moment you enter the office, people are busy enjoying the rain and less interested in admiring you!
Come, let's start admiring the sexy sirens of bollywood who charmed us with their thumkas in chic chiffons.
Kareena in the red and golden bordered saree, paired up with a floral blue blouse with ruffles in the rim, looked every bit refreshing, making the normal saree look gorgeous!
Choose reds or deep blue that accentuates your colour tone.
Go sleeveless or try ruffled blouses or sheer stuffs to add some refresh element to your overall look.
Tip tip…Saree Slip Slip….
Moment we think of the most sensuous rain song of the times , this song 'tip-tip Barsa Pani' along with the wicked thrill comes to our mind.
Rains are sensuous and so as chiffons!
A wavy hair, smokey dewy eye make-up and a peach lipstick shade – can bring out that sensuousness in you. Try this look for a Sunday or Saturday look, when you are out on a date with your special one!
It's better not to try this look for office as chiffons might get sticky to your skin and wet saree might make eyes of the co-workers drool on you.
Use colours like magenta, maroon which would go on an Indian dusky skin tone.
 But gale lagne mat dena kisi ko!
As sensuous you look, you're sure-fire to look raunchy and make eyes drool!
Remember katrina's glam look from the movie Dhan-Dhana-Dhan..?
Par logon ko tarasne mat diyo…:P
Aiswarya didn't go for a saree, for this song. But her chaniya choli blouse says it all 😉
Why don't you try such bold backless look with your recently purchased saree from online?
Kya Apko bhi hua ?
Obviously who wouldn't stop their wild gaze from you after having draped so sensuously in a saree?
But this song was not raunchy indeed… 😛
Who can miss out remembering the star couple – Raj Kapoor and Nargis expressing their love at the brink of the unknown?
Hence, all I wish to say is monsoons are a separate affair altogether. Travel and smell of dirt may be difficult to deal with. But preferably a good season to experiment with different emotions through your style.
Why not get a style check done, by checking out few sensuous chiffon sarees via online shopping?